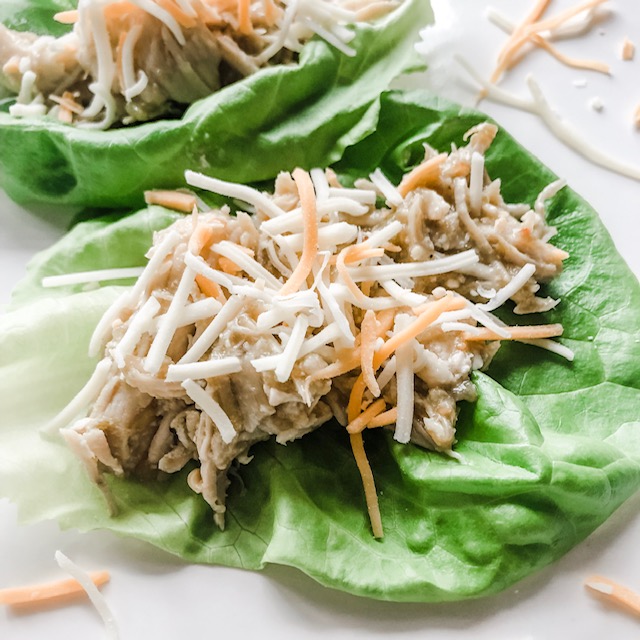 Our family celebrates Taco Tuesday every week. Is there an easier meal than tacos? I have four recipes on rotation so we aren't eating the same thing every week, although the only thing that is really different is how I cook the protein portion of the tacos.
This is by far the easiest recipe. It is literally an instant recipe. It is perfect on busy days. You can place frozen chicken in a crockpot with your favorite salsa, set it to cook all day, and dinner is done when you get home.
I let my kids choose how they want their protein. Their favorite way to eat it is on tacos or on top of nachos.
My husband and I eat a low carb so we add it on a salad or on lettuce tacos. This recipe is low-carb and Keto friendly.
This makes a lot of chicken and is easy to double or more when entertaining. This makes plenty of chicken for our little family and we always have leftovers.
Two Ingredient Slow-Cooker Mexican Chicken
Ingredients:
2 Large Boneless Skinless Chicken Breast (approximately 2 lbs)
8oz Green Chile Salsa (or your favorite salsa)
Directions:
Place two frozen chicken breasts in your crockpot / slow-cooker. (You can also use thawed chicken breast, just cut the cooking time to 4 hours.)
Add 8 ounces Green Chile Salsa
Cook for 6 hours. (4 hours for thawed chicken)
Do not drain. Shred chicken with two forks.
Serve on tacos, salad, or lettuce wraps.