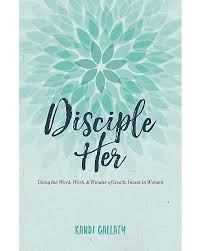 I have a Master's from Southeastern Seminary and been involved in ministry leadership for over twenty years. I was introduced to Robby Gallaty's discipleship strategies about four years ago and have had the privilege to spend time with Kandi Gallaty in different ministry leadership groups.
The concepts in this book have shaped how we make disciples who make disciples. We are seeing a powerful discipleship movement within our church and the LORD is doing some amazing things.
This book, Disciple Her, by my friend, Kandi Gallaty, is so practical and can be implemented at any size church and in any context. It can be purchased at Lifeway, on Amazon, or at discipleherbook.com.